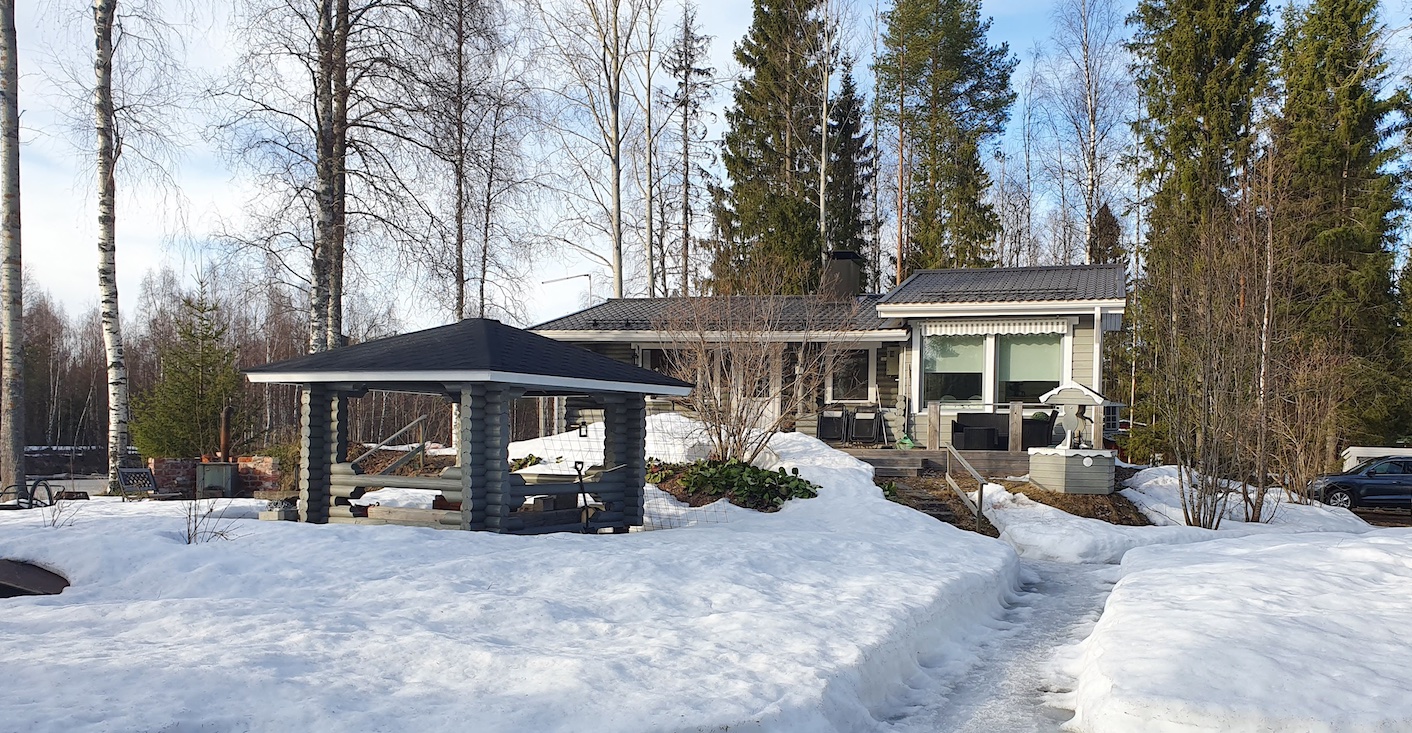 Project summer home: The smart plan
We've been looking for a summer home for about a year now and finally found a proper one and closed a deal with it – so now we got a summer place next to a small river to relax at. Since I'm a smart home freak, I want to be able to control my summer home also when we are not around.
This blog post contains some initial plans that, that I'm going to implement in the near future.
Networking
Everything starts from networking infra. Without a proper network you can't do anything, obviously.
Since the place does not have any wired WAN network, I need to settle with a mobile broadband. Luckily there's a LTE tower near by and should have good enough capacity to handle small amount of network data. Looking from the cellmapper it seems to have 800MHz LTE frequency and that basically means max speed of 150M/50M connection, still enough for the needs (as long as the LTE network is not too crowded).
The plan is not to have separate Home Assistant running at the summer house, but to have a VPN connection to home instead, so that the devices can then communicate directly to existing Home Assistant.
For the network gear, I'm planning to use left overs from my old home network. I've already started with the networking configuration and will write separate post for it very soon, so please come back later for that 🙂
Security
Summer home should also have a security system in place (one or two cameras). Mostly I need to have a remote camera that notifies me if someone is at the place. And along with that, I will drop few 'recording camera system' -signs at the property to scare of possible burglars.
For the rest of the security system I've yet to decide if I should add some leak sensors or anything else.. trying to minimise the device count in there.
Heating
Heating control is also must have feature in the summer home. For winters, I want to be able to monitor heating conditions that nothing gets frozen and small amount of heat is always on. Also it would be nice to be able to pre-heat the cottage before arriving at the house.
Luckily a previous owner had already installed a heat pump. It's a Samsung heat pump with cloud control and most likely can also be integrated into Home Assistant. More for this later.
The cottage also has electrical floor heatings in every room (5 thermostat in total), but those thermostats does not have any network connections. So most likely I'll be changing all the thermostats at some point, but so far I don't know which direction to go. HeatIt Z-wave thermostats would be good choice, but that would need another device installed to be able to use it (Z-wave hub). The best approach would be to go with WiFi, but I have not found any good WiFi thermostat yet that integrates well into Home Assistant. Will get back to this subject later in another post as well..
TV
TV is of course to be brought to the summer home. As a F1 fan, I need to be able to watch formula races from the summer house. F1 is only seen from pay tv in Finland, I need somehow to be able to stream F1 directly from our main house, since I don't want to order another pay TV package from terrestrial network (have cable tv in home).
Luckily my 'old' hobby with satellite dishes and DVB cards now comes in handy. I already have a DVB PC in place and can stream TV channels inside my home network. I just need to install DVB-C card with CI cam slot and card splitter so that I can share my Cable-TV CI card between the stream PC and main TV at home. More to come about this on a separate post later.
Oh, and of course the TV for the cottage should have either integrated chrome cast, external chrome cast or some other way to be able to actually receive stream from home.
Anything else?
Previously I've had two Samsung multi room speakers in my house and still got them lying around useless, so was planning to move those to the cottage. As I've mentioned previously, the Samsung multi room is not a good system, but will get the job done: can listen to radio and maybe even Spotify from time to time.