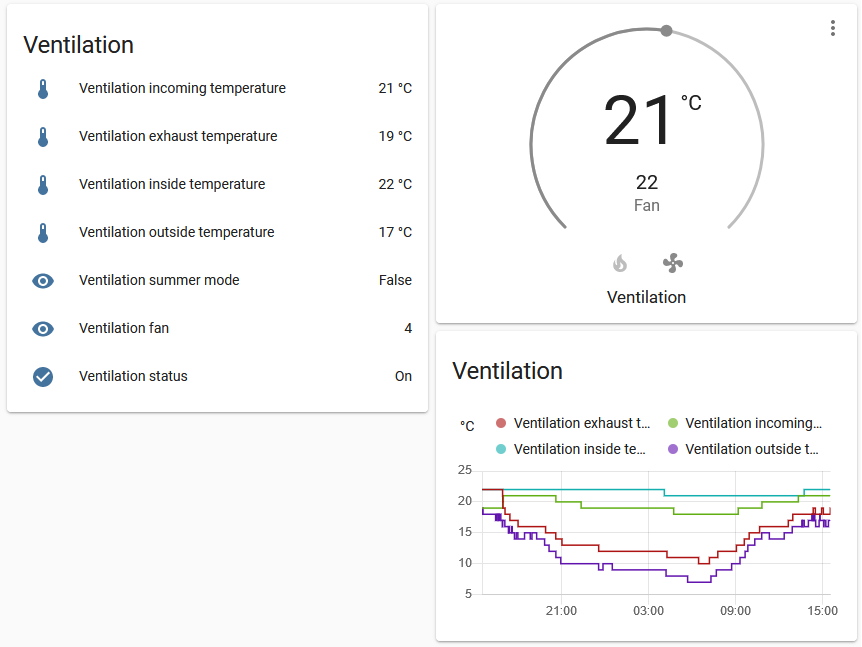 Guide: Vallox Digit Ventilation to Home Assistant (Part 2/2 – Home Assistant)
In previous post I wrote a guide, how to create hardware to control Vallox Ventilation Machines (the dumb ones) through wifi. In this second part, we are going to integrate the newly created hardware into Home Assistant.
NOTE: Home Assistant 2021.12 caused a breaking change that caused commands not being sent to Ventilation Machine from HA. This has now been fixed and new custom component can be installed from GitHub repository (v0.8.2).
Requirements
Since our hardware sends all the events to the MQTT pipe, of course we should have MQTT installed into our system. Check this post out if this is a new thing for you. You should already have MQTT installed though, since you were able to complete the 1/2 part of this guide 🙂
Another thing we need is a SSH in home assistant. We need to be able to install custom components to the system (there might be other ways as well, but this guide uses SSH connection). SSH add-on can be installed from supervisor -> "Add-on store".
Custom component installation (UPDATED 3/2021)
Next thing is the actual component installation.
SSH into the home assistant system (either with web ui or native ssh) and enter following commands:
cd /config/custom_components 
wget -O - https://raw.githubusercontent.com/kotope/valloxesp/master/install_to_home_assistant.sh | bash
First row changes our directory to custom_components folder inside home assistant. Custom components are third party components that are not integrated into home assistant by default.
Second row downloads the software from GitHub repository and runs installation right through into the custom_components folder. No need to do any other commands anymore.
Now restart the home assistant and our new component should be loaded in the system.
(Coming later: HACS installation)
Configuration (UPDATED 3/2021)
Latest version of integration is done via Home Assistant integrations page direclty from UI and differs a lot from older version. If you have the old version still installed, remove the configuration related to vallox2mqtt from configurations.yaml. Also you can now safely remove templated sensors since they are provided through configuration procedure automatically now.
Our platform currenty offers three components: thermostat (climate) control, binary sensor and swuich. Climate control has heating, fan support and target temperature setters.
Binary sensor is just a status on/off, but has rest of the values as attributes that can be used as template sensors if needed.
Switch is either boost or fireplace switch as selected from Vallox Ventilation machine. Note that once either boost or fireplace mode is activated, it cannot be turned off until the timer expires in vallox (boost 60min, fireplace 15min). This is restriction in the interface and "can't" be implemented. Also please note that at the moment you cannot switch fireplace/boost mode from HA, only in the device itself (something I still need to implement).
Latest version (0.8.1+) also provides other sensors straight through device now.
So let's setup the platform.
Go Home Assistant configurations tab -> integrations and press '+ Add Integration' in down right.
Search for vallox2mqtt and click it.
Configuration dialog should pop up and you can leave the values default unless you have changed your valloxesp mqtt topics to something else. You can also change the friendly name as you like (e.g. in your localized language).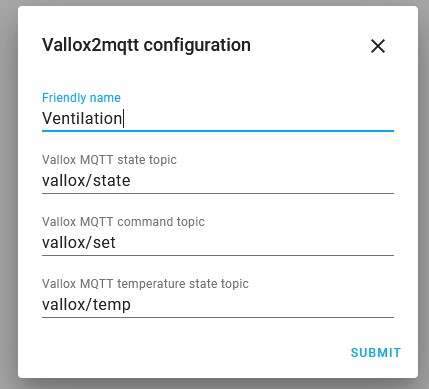 After pressing the 'submit' button you are asked the area of the device. When finishing the setup you should see 1 device with 15 entities in the integrations view. You can now start adding those in your Lovelace UI.
RH1 and RH2 are only available if your Vallox ventilation machine has those. Otherwise those statuses will be unavailable.
Testing
Enter some of your views and try to add thermostat entity into it. You should find your "Ventilation" item.
Just experiment a bit and do anything you would like to see with those 🙂
In images below is an example how I've configured of those Lovelace cards (sensors, history graph of all four temperature sensors and ventilation control)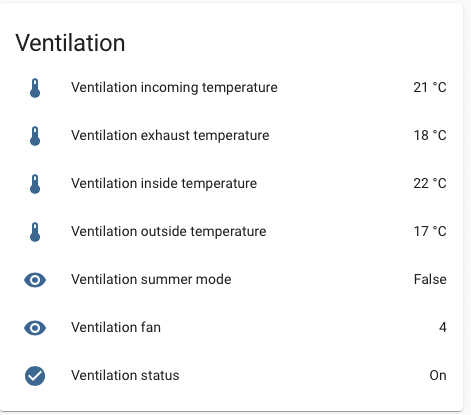 Again, if problems, feel free to drop a comment below and I'll try to help as much as I can.