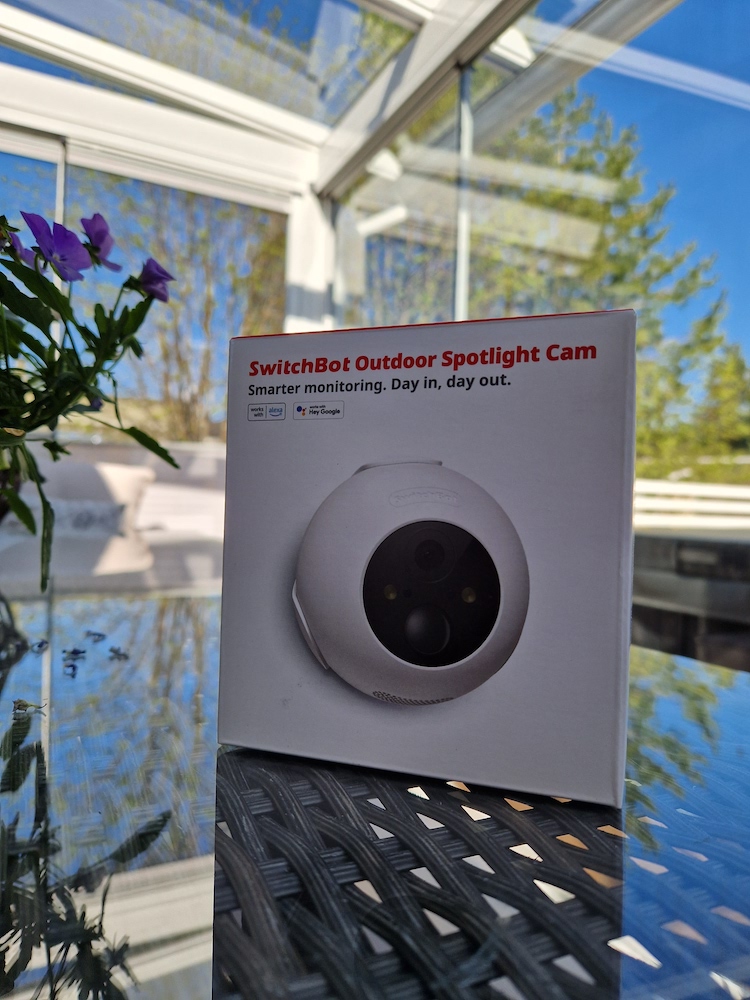 Review: SwitchBot Outdoor Spotlight Camera
Security camera business does have a though competition going on right now and new security devices are popping out very quickly from all the big and smaller manufacturers. One of the key thing in the camera business now is an AI image detection. Seems like SwitchBot is also trying to enter this business, so let's dig a bit deeper to see how does their outdoor security camera perform in this thigh and vast market.
Disclaimer: I've receive the outdoor camera for free on reviewing purposes, but as always, the opinions are 100% my own and this does not affect the product review.
Specifications
The specifications of the camera are quite impressive. Not 4k quality, but 1080p is a great accomplishment from a battery powered device within a cheap price range (99$):
1080P FullHD Resolution
Compact Design
Battery Powered (10000mAh)
WiFi
Two way audio
Night Vision
FoV Diagonal 126 º, Horizontal 110º, Vertical: 53º
Support for Solar Panel (Optional, not included in the box)
IP55 class weather resistance (splash proof for outdoor usage)
What's in the box
The package of SwitchBot Outdoor Spotlight Camera contains all mandatory installation supplies to get started: The camera, Installation bracket, Two different type of screws depending of the installation material, Backplate for adhesive sticker, installation template, USB-C charging cable and product manuals.
So, that's only the mandatory component. What the package is not including are micro-sd card, solar panel or charger itself. It is possible to add the camera to the permanent power supply, but in that case, you would most probably need to purchase a IP55 usb-c power supply separately and that can cause an issue for a customer. So, the device is clearly targeted to be used with the internal battery!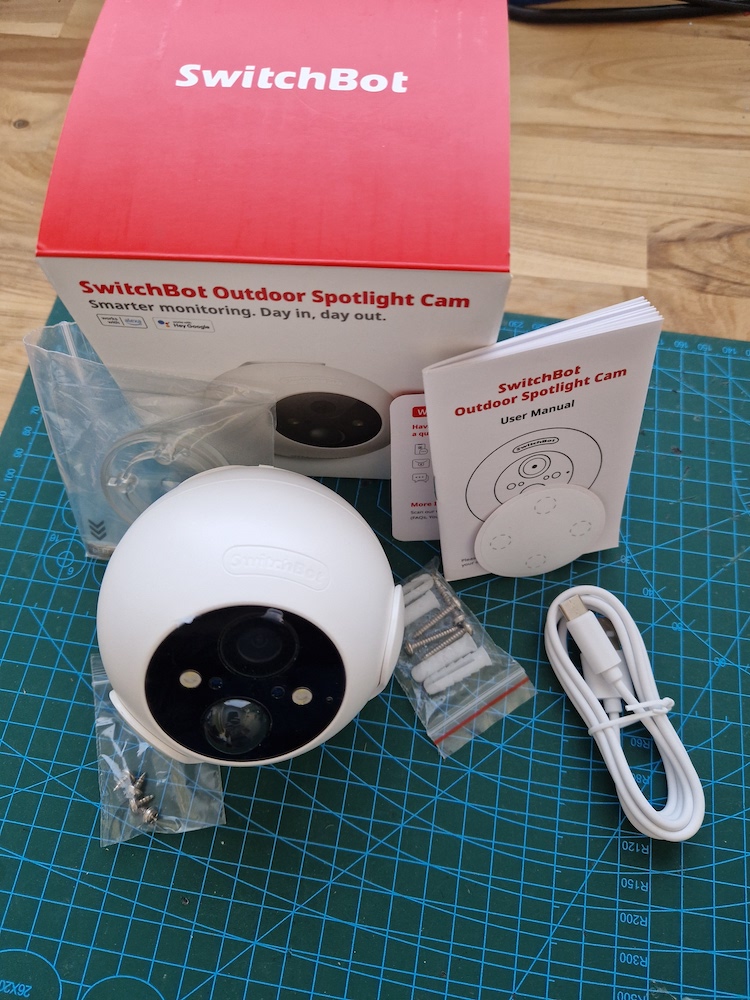 Installation
The best thing of the camera is the fact that it's fully battery (or solar) powered so it can easily be installed anywhere as long as there is WiFi coverage. I did install it to the back yard deck to keep an eye of the it. So I'll be going through my initial installation experience of putting the camera on to that location.
Hardware setup
Since there's no need to add power or any other physical wires or equipment, installation couldn't be more easy. Just make sure that a) it can see the area you wish to keep an eye on and b) if using solar panel, make sure the solar panel gets at least few hours of solar every day to keep the battery fully charged.
Ok, the installation then: screw in the holding bracket in with corresponding screws depending of the wall or use the adhesive sticker+mount. Fully charge the camera with the provided usb-c cable (and with any USB power supply), insert micro sd-card (optional), turn on the camera and everything is ready to go. No wires – no hassle. The hardware setup is now done!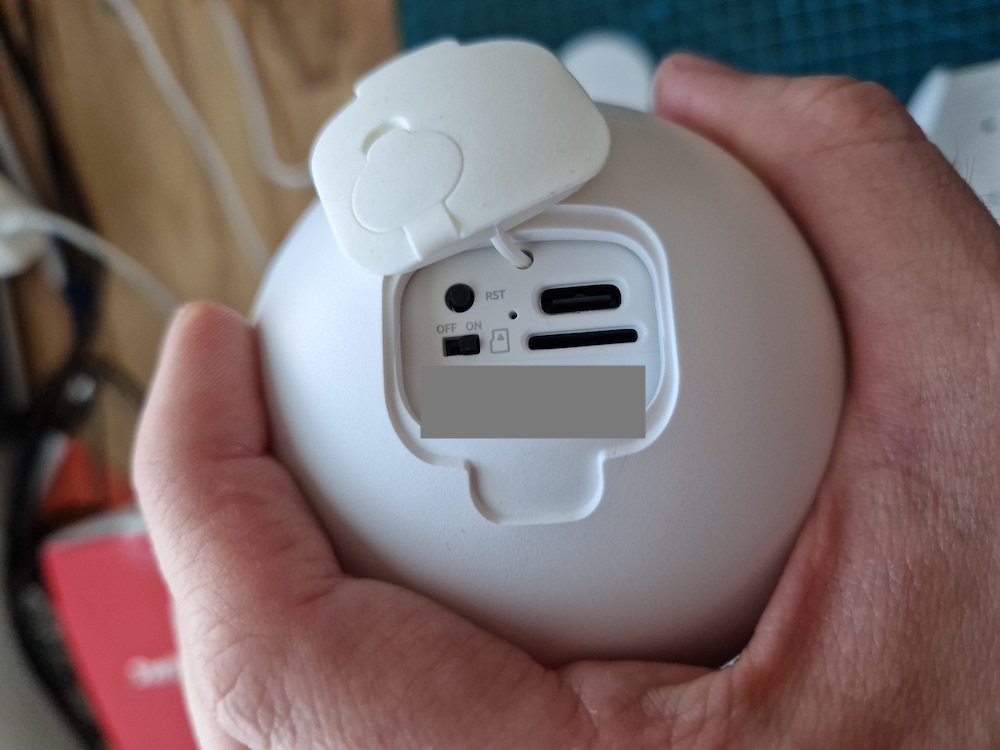 Setting up the device through the app
As with all other SwitchBot devices the device setup through the app is very well thought of and flows straight forward. To get things running, open the app and press 'add new device'. After that initial procedure, everything is guided step by step and in the end and your device should be visible and usable in the SwitchBot app.
It's actually preferred to run the setup process even before mounting the camera in the ceiling, since the app also guides through the Hardware installation process. I did this in a wrong order and skipped the hardware install instructions. The same hardware instructions can be found from quick start guide as well though.
Anyhow, zero hiccups during the installation process.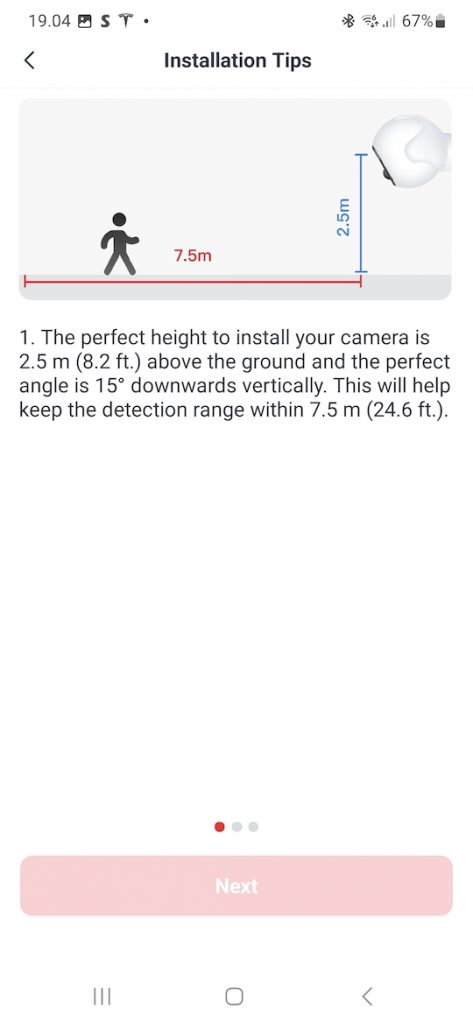 Usage and review
SwitchBot usage is limited only to SwitchBot App only (iOS or Android) and can't be used from anywhere else. Technically it means that the SwitchBot outdoor camera can't be integrated to any 3rd party systems. However, luckily the SwitchBot app can take every inch out of this device and it's enough for basic use.
The SwitchBot App
I've used SwitchBot App with other SwitchBot devices recently and I can really say that the usage is always very easy and features are easily accessible. When entering to the Camera section of the app, every feature and configurations are clearly indicated and changing between features goes smoothly.
The feature list of the app is vast: Live Stream (changeable between HD and SD), Audio Streaming (in and out), snapshots and full screen support. There are also some more advanced features presented like privacy mode, sound alarms, spotlight, night vision and motion detections.
I'll be going all of those features in separate sub topics right below, so read on or skip to the one you've most interested in.
Live Stream and picture quality
Live streaming of the camera is great. Of course it's much less than 30fps (sorry, couldn't get the actual value from anywhere), but it's enough for intended usage. Picture quality is the full 1080P or it can be changed to SD to save bandwidth if needed.
The live stream colors does match the real environment, but unfortunately I haven't been able test the colour correction of the night vision mode, since currently in Finland we are out of dark time for few months. Will get back to this after few months.
Audio as well comes in seamlessly, although, I don't like the idea that the app considers sound of the stream as a 'call' instead of normal 'media'. That means if you have your media volume muted, you still will hear the live stream sound coming through the phone. Of course there's a mute button on the camera view as well, so this is not really an issue, I was just surprised to see it function like this 🙂
And then the bad things: there's no RTSP stream that can be accessed from outside of the SwitchBot App and therefore you are forced to stick within the SwitchBot Ecosystem with this camera. I kind of understand this, because the camera is operating fully with battery only. Streaming RTSP 24/7 would drain the battery out very quickly so this is something that has just to be accepted.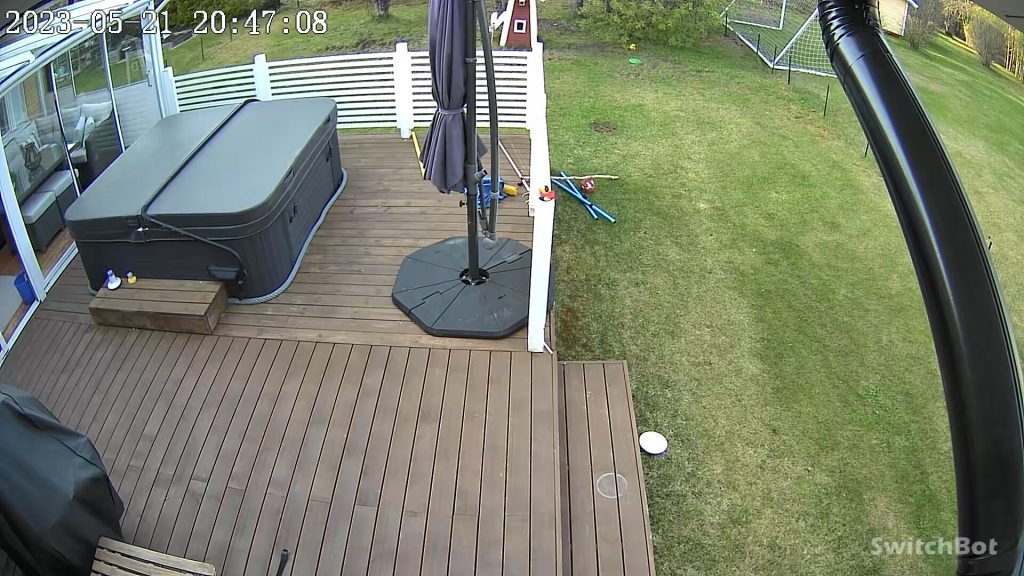 Storage and recordings
The storage system of SwitchBot outdoor camera is a bit confusing. It has s small internal storage for firmware only (obviously), micro SD card slot (card not included in the package) and support for SwitchBit cloud storage (subscription based).
All the events noticed by the camera AI or motion are automatically stored as a single image to the cloud (no decaying time limit for that), but in order to get the video stored, you need to have either micro sd-card installed or cloud subscription. However, viewing the recorded videos are quite difficult to find and will need you couple of clicks to go into the playback section. Wouldn't it be much better if you could play the video from the same place where you can view the image? Again, not a real issue once you find out how it works.
Cloud storage has many subscription plans: standard, premium and family plans, which each has support for 30 days of video footage and different number of maximum devices (1 to 3 devices). Price ranges from 4.99€/month to 99.9€/year. There's no free trial and payment can be made with PayPal or Stripe. In my opinion, the price of the cloud is quite hefty and maybe SwitchBot should consider at least something of a free trial when purchasing a new device?
Motion sensor and AI detection
The outdoor camera can record events with three separate parameters: motion detection, AI detections for persons and a AI detections for animals.
The motion will trigger recording every time a small amount of motion is detected in the view of camera. This will pass out tons of notifications and will drain the battery quite much faster than using other methods. It's not really useful to have standard motion detection enabled anyhow.
AI detection, however, is working quite well. Within few weeks of use, the person detection accuracy has been 100%. But the animal detection? 0% accuracy for our small white pet dog. Every time the dog is out the camera won't trigger it. The accuracy of AI depends of the camera installation location and all other environmental variations of course, but maybe there's some improvement for the SwitchBot team to train the AI model to be more precise with the animals?
Anyhow, it's essential for modern security cameras to have person detections and I'm glad SwitchBot has managed to develop one into this device. One thing I'm missing is a vehicle detection though. Would be nice to get recording if an unknown car appears on the yard?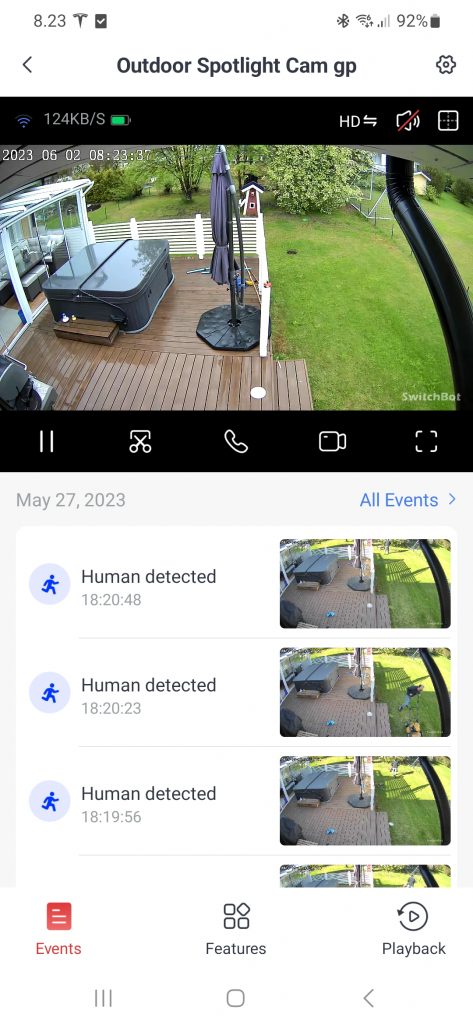 Battery performance and charging
This is the thing I was most considered about when reading the specifications first. You'd think thank a camera would drain the battery very quickly, but I luckily I was so wrong about this. The device has internal (not changeable) 10000mAh battery and it can handle the device power load very well! The device has now been on for eight straight days and it still has 91% of the battery left. Live stream has been used every now and then and lots of recordings have been made by AI. So it looks like the battery will last 2-3 months with a single charge when using moderately.
And even if considered about the battery, the camera supports also SwitchBot solar panels. So connecting this specific solar panel to the camera it could (in theory) run for ever, as long as it gets average of few hours of sun every day.
How goes the charging? The device itself is removable from the installation bracket without any tools, so it can be removed for a normal usb-c charging. Charging can take many hours since the big 10000 mAh battery, but so far it looks like you will only have to do it in every couple of months only. There's a catch of easy removing of the camera though: what would prevent burglars of taking the camera in their pocket if not placed in a good spot?
Other features
Along with the basic feature's there some more advanced more or less useful features with the cam.
Privacy mode: Will turn off the camera detections and live stream when set. This is specially good in situations when you don't want to be recorded. Also very usable with the automations!
Sound alarm: Will sound an alarm from the Outdoor camera. Good for scaring of burglars or animals.
Spotlight: Bright light to turn on.
Good or not? Well, it depends of the use case. These are especially usable when using SwitchBot ecosystem. Turning on the privacy mode when entering home or sounding an alarm when not home and person detected. Too bad, there's no 3rd party service support to add these to existing smart home ecosystem.
Conclusion
The device is a good choice for a security cameras, as long as you place the device in a proper secure spot.
The one thing I mentioned in battery performance section is the easy removal of the camera. This can backfire if the camera is placed in a wrong space. The removal takes total of one second, so what does prevent possibly burglar to grab the easily removable camera in his pocket while walking by? Of course normal security cameras are viable for spray cans and other methods as well, so the problem is not real only with SwitchBot device. Just placing the device in a more secure spot will solve this issue:-)
Anyhow, the SwitchBot outdoor camera needs to be considered more as a camera for surroundings or as an entry level security camera. It is not a full security system and shouldn't been thought as of.
By going full with full SwitchBot Smart Home ecosystem will get the most out of the camera, but unfortunately, SwitchBot system is not vast enough yet to be considered as a single choice of Home Automation. They are going to the right direction though..
Pros
AI detection of a person is very accurate
Battery powered with solar panel support
Easy installation
Excellent value for money
Cons
No support or API for 3rd party smart home systems
The Apps recordings section is a bit confusing
Quite expensive cloud storage
Smart Home Score: 3.5/5
---
Promotional message:
Need a SwitchBot device? You can get 10% off with the creatingsmarthome.com code 10UPF4RLGELVDV directly from the SwitchBot store.
Get 10% off on SwitchBot Curtain 3 from Amazon with the code XMCURTAIN3