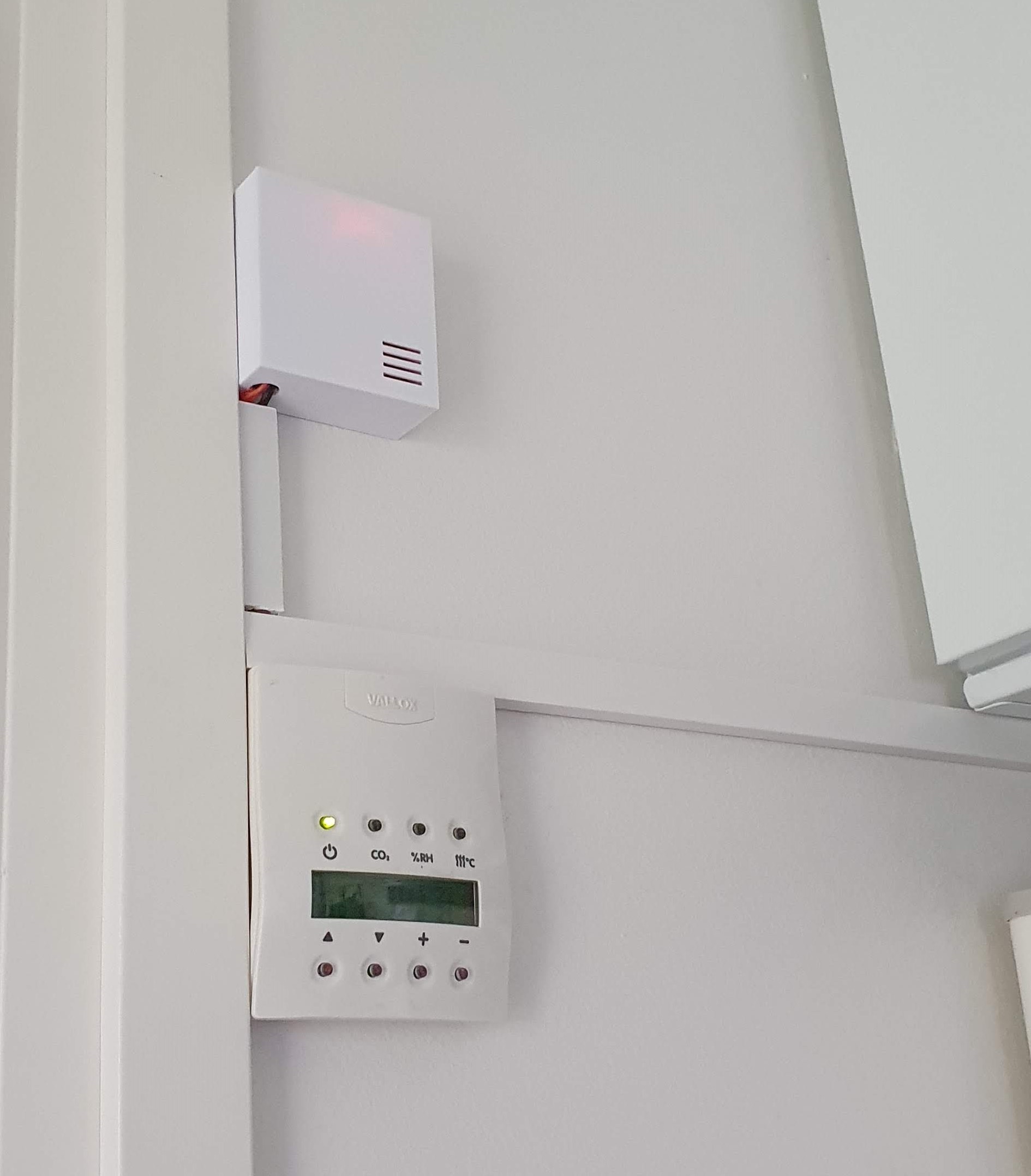 Guide: Vallox Digit Ventilation to Home Assistant (Part 1/2 – hardware)
I have four years old basic Vallox 121SE ventilation machine doing the ventilation of my house, controlled by small display with few buttons. By doing some research, it seems like there's a RS485 bus running from machine to the controller.
After googleing a bit, I even found the protocol specifications and some DIY stuff related to it, so I thought it would be nice to have it connected to Home Assistant as well. So, if you are having a Vallox ventilation machine (I have Vallox 121 SE, but this should work with any Vallox with Digit protocol) this guide is for you.
This guide gives you a briefing how to integrate your Vallox Digit protocol ventilation machine into your Home Assistant software through MQTT.
Materials needed
Optional (for easier installation):
Software & flashing: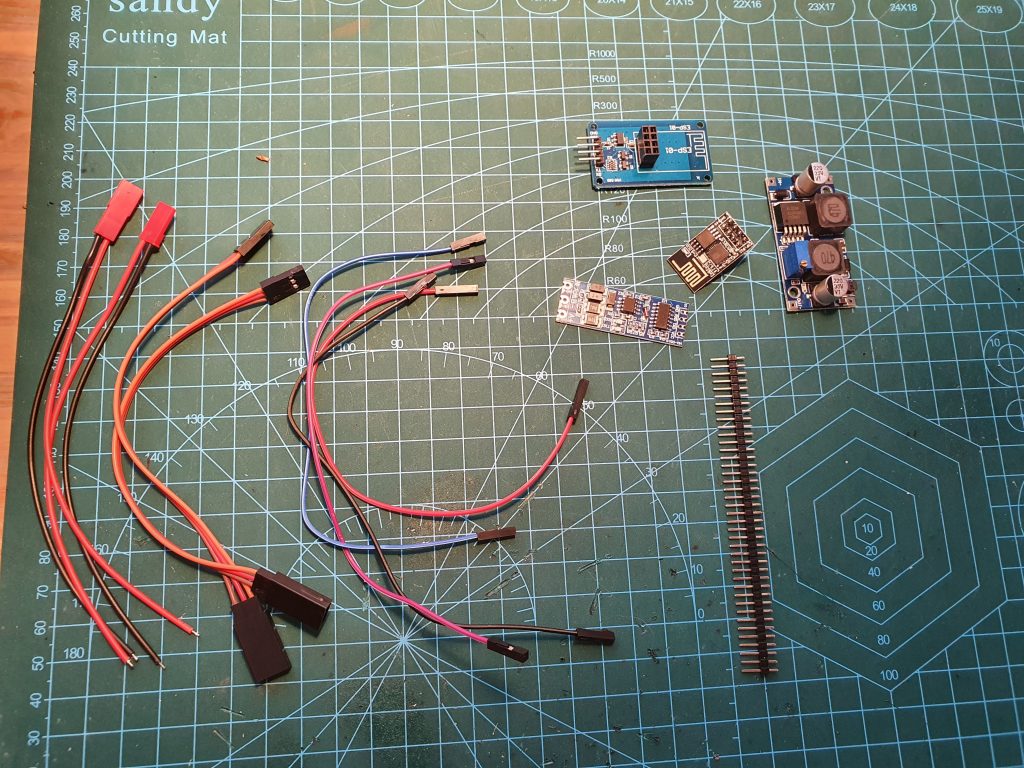 The build – overview
ESP-01 works with 3.3v (signal and voltage) and RS485 is a serial BUS with 5v. We therefore need the level converter (luckily there's a ready made alternative that fits directly in the ESP-01).
Also Vallox is outputting 24v as voltage and we want to power ESP-01 & RS485 module directly from it without using an external power supply. That's where buck converter comes handy.
So, RS485 module converts the signal provided by Vallox into a TTL signal understood by ESP-01. Buck converter lowers the voltage to 5v that powers the ESP-01 (through level converter) and RS485 module.
Keep on reading if you want to see step-by-step guides 🙂
The build – soldering
Start by soldering pin headers into RS485-TTL converter.
Cut two (preferrably black & red) dupont wires into two and solder those into buck convert output (red into + and black into -).
Solder JST connector (male) into buck converter input (red into + and black into -).
Cut one of the servo cables from the root of female head and solder the wires into RS485 A, B and GND (red A, orange B and brown GND.. of course depending on your cable colours, but just remember the correct order later).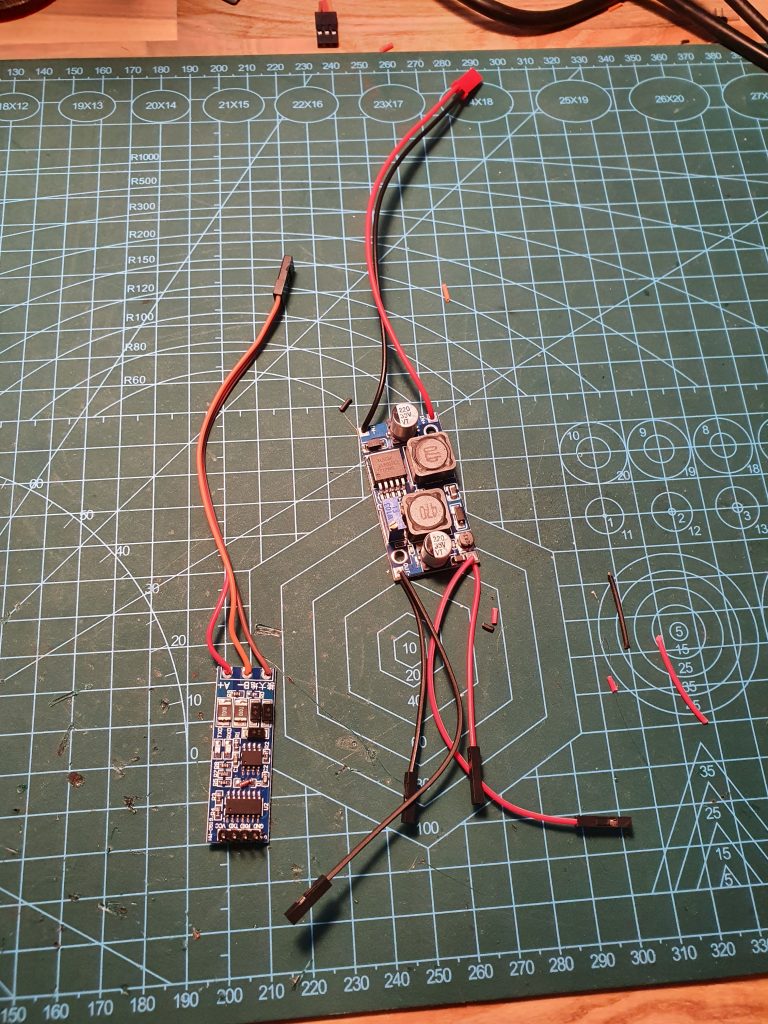 The build – ventilation connections
Cut the second servo cable from the root of male head and take multimeter, cutted servo cable, JST male cable and buck converter with you to the Vallox ventilation unit and unplug the ventilation machine from main power.
Now open the ventilation control unit and open it (screw is behind the top plastic covering). After opening the cover, unscrew two left connectors from the top right corner and connect power (JST) cables into it with the existing ones. Red to left and black to the next one (verify + and -). Tighten the two screws.
Next connect the signal cable (servo). Unscrew next three cables and connect red (A) to left, orange (B) to middle and black (GND) to the right. If having different colors, just be sure that connections matches to the solders of RS485-TTL connector. Again, ensure A, B and GND from the machine.
You can now close the ventilation controller.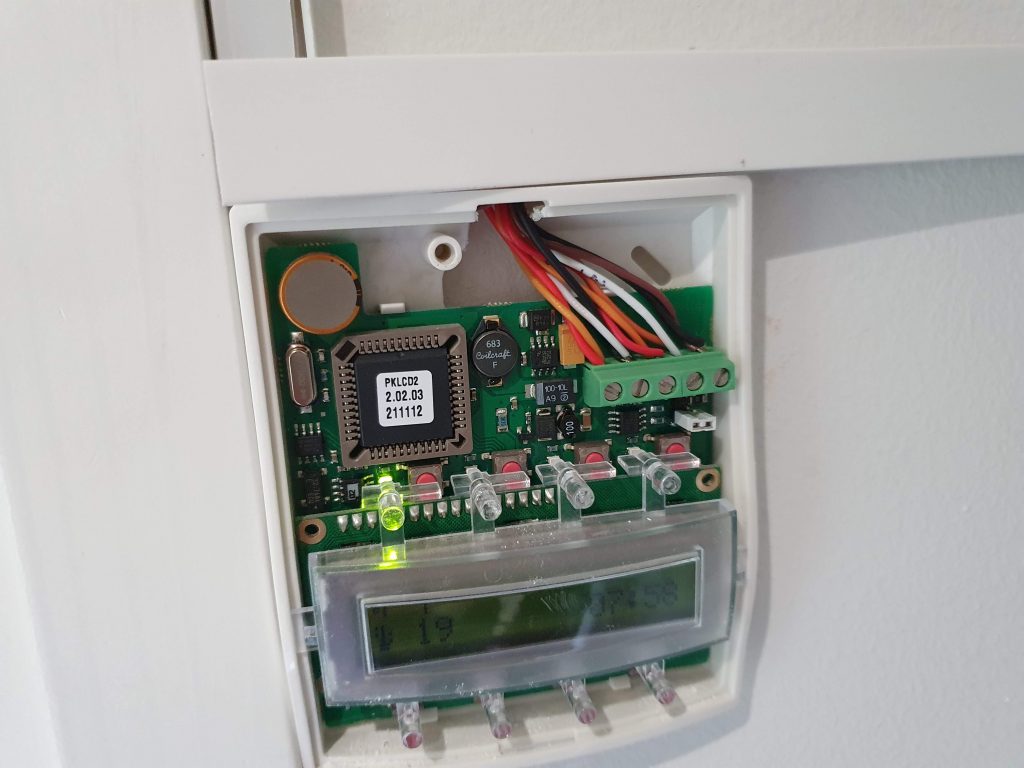 The build – setting the buck converter voltage
Next we need to set the buck convert to proper voltage. Vallox machine is outputting DC 24V and we need to convert it to 5V.
Connect your buck converter to the JST female you just installed. Take your multimeter and set it to 200V or 20V mode. Connect your ventilation machine back to main power and turn it on. Now the red (or blue) light should also be lit on your buck converter.
Measure output voltage from the buck converter and screw the small screw until you get 5V reading on the multimeter. Now we have proper voltages.
Unplug the buck converter and head back to finish your build.
The build – finalizing electronics
Now let's finalize the hardware.
Connect output + (red) dupont from the buck converter into RS485 module VNC pin. Connect output – (black) dupont from the buck converter into RS845 module GND pin.
Now do the same for the ESP-01 adapter. Connect another output+ (red) dupont from the buck convert into ESP-01 adapter VNC pin. Connect output- (black) dupont from the buck converter into ESP-01 adapter GND pin.
Now connect new dupont cable from RS485 RX pin to ESP-01 adapter RX pin. Same to the TX pins.
All done! Next step, software.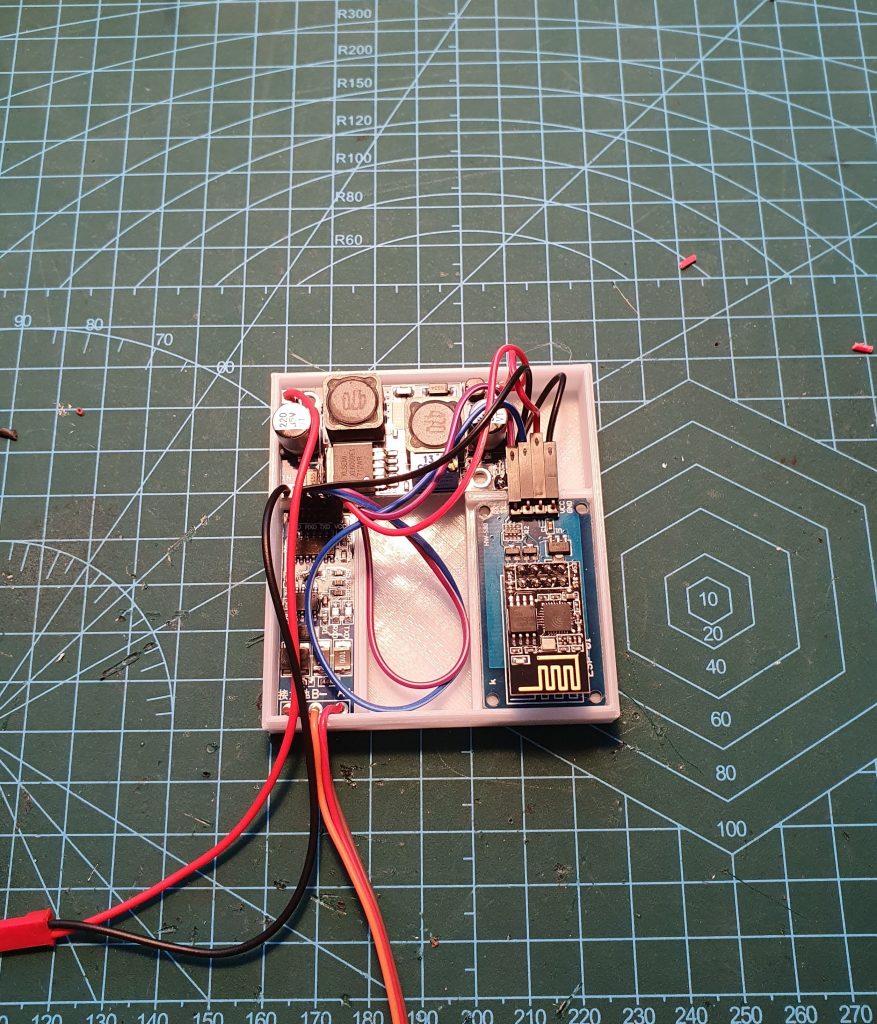 Flashing the software
I presume that you have basic knowledge of Arduino and flashing software. If not, you can find tons of information from the google.
To flash ESP-01 you can use e.g. this adapter.
Software to be flashed can be downloaded from https://github.com/kotope/valloxesp
Before flashing, be sure to set following values into valloxesp.h:
ota_password (password used for OTA updated) (optional)
ssid (your wifi SSID)
password (your wifi password)
mqtt_server (your mqtt server address)
mqtt_username (your mqtt server username)
mqtt_password (your mqtt server password)
When successfully flashed the software, just connect the ESP-01 module into ESP-01 adapter. All done.
Printing the case (optional)
Of course to make the installation of the module good looking, a case should be created. Since I have a 3D printer I've designed a 3D model to fit all the parts inside. You can get the model from https://www.thingiverse.com/thing:4579311
If you do not have usage to a 3D printer, you could try to fit the parts inside some generic plastic cases. Go and experiment 🙂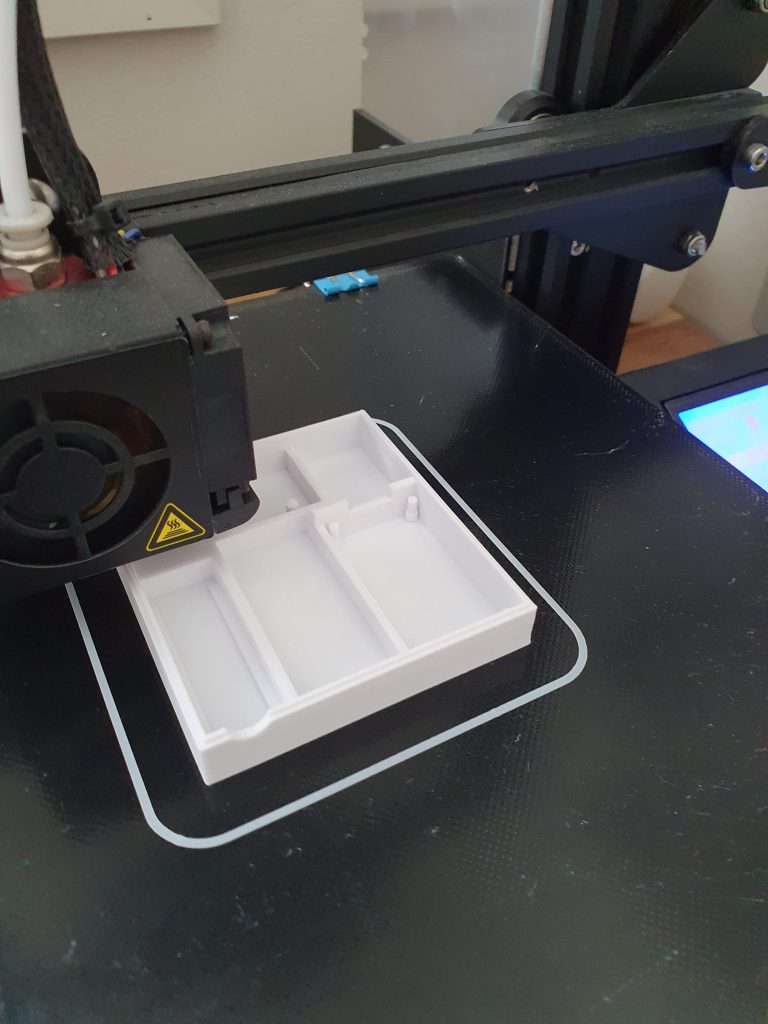 Installation
Now that everything is ready and we do have everything set up in a case, it's time to do the final installation.
You should now have two connector already hanging from the ventilation control unit. Just connect your power (JST) and RS485 (Servo) into the hanging connectors and you'll be ready to go.
After connection, you should see events dropping into your MQTT gateway.
If having issues, feel free to drop a comment below and I'll try to help as much as I can.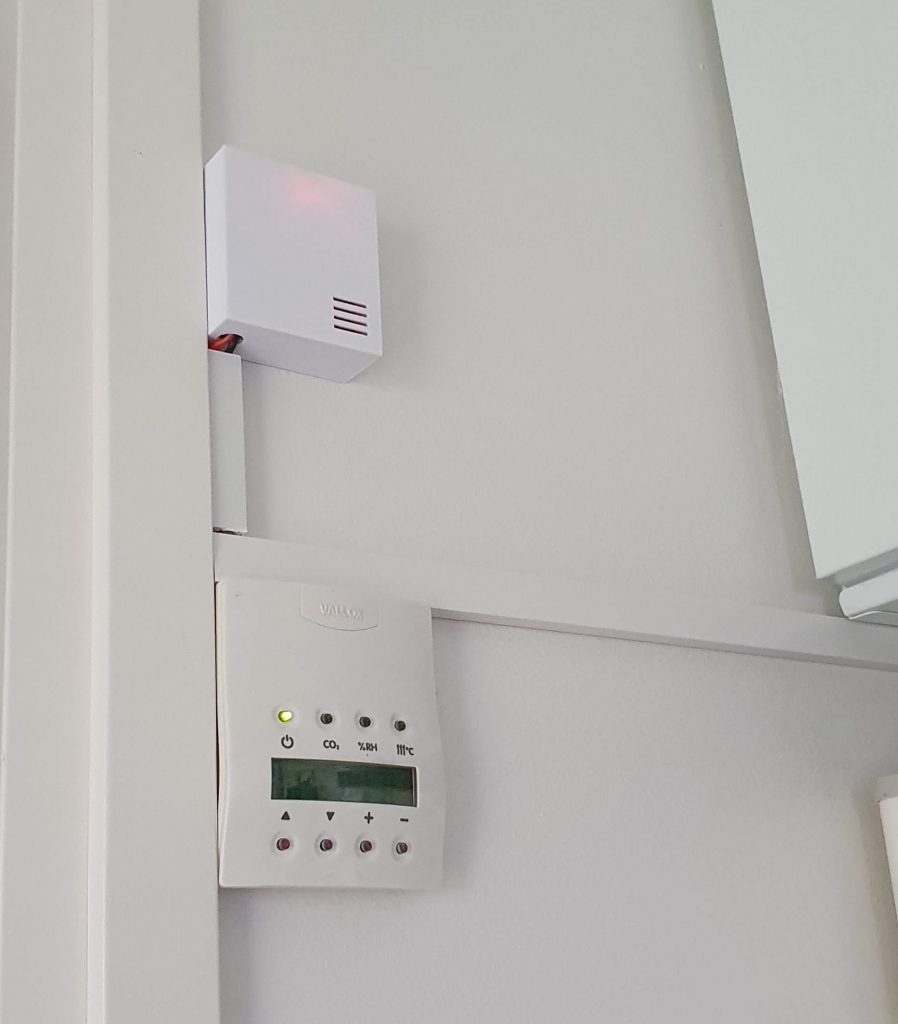 Integration to Home Asisstant
---
Did you find this guide helpful? You can keep the blog going by bidding me a coffee!