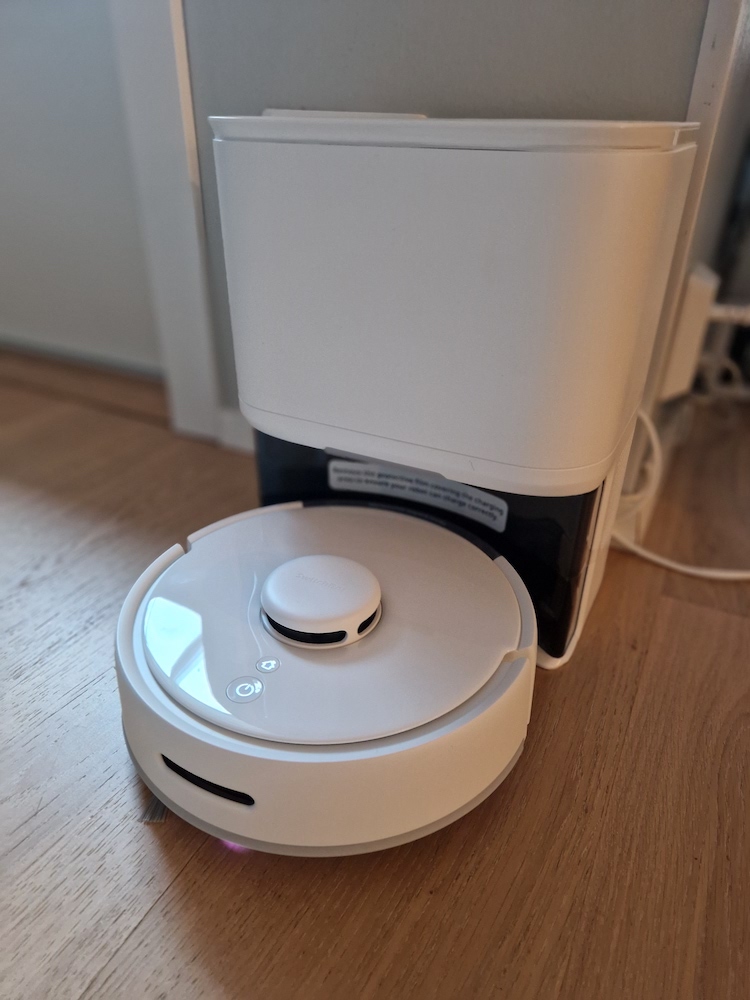 Review: SwitchBot K10+ – a little help for daily cleaning
While waiting for the fully automated SwitchBot S10+ robot vacuum/mop to launch (available for pre-order at Kickstarter), I got a change to try out its little brother – SwitchBot K10+. It's specified as a small, but efficient little cleaning help, mostly targeting for users with smaller apartments.
However, in this review, I'm going to setup and run it in my 141m2 house and do some basic and extreme cleaning routines to see how it can handle the environment out of its comfort zone.
So, let's get started..
Disclaimer: I've receive the tested device for free on reviewing purposes, but as always, the opinions are 100% my own and this does not affect the product review.
Specifications
Product specifications are quite typical for low- to mid-range robot vacuums (except the size of this thing):
Suction power 2500pa
Auto-empty station (capacity 4 litres)
Vacuum dimensions 24.8mm (diameter) x 9mm (height)
Mopping capability (using disposable mopping sheets)
Lidar navigation and mapping
At this price point, most of the robot vacuums don't have an auto-empty stations, so it's a positive exception with K10+.
What's in the box
There's everything needed in the package to get started:
K10+ vacuum cleaner
Auto-empty station
User manual and a quick start guide
Two dust bags (one extra)
Two side brushes (one extra)
Extra filter (one is already installed in the vacuum)
30 disposable wet clothes for mopping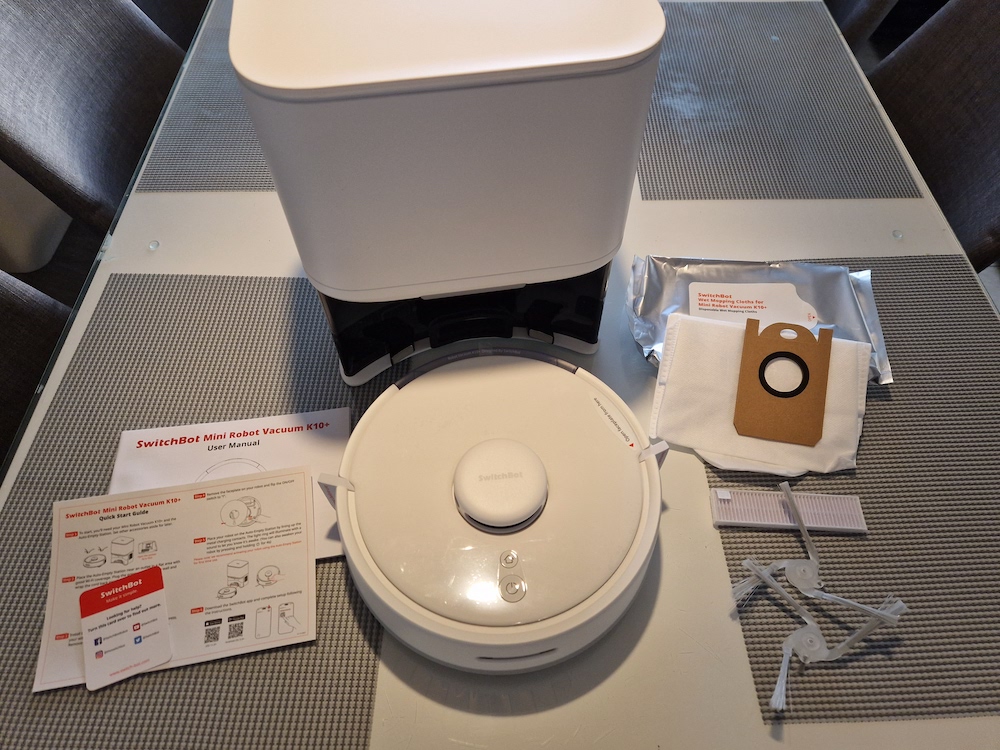 Setting things ready..
As the K10+ quick start guide tells you, there are six initial steps to do:
Unpack all the things and set extra accessories aside
Place auto-empty station in a flat area
Install side brush
Flip the power switch on
Set the vacuum into the auto-empty station
Download and start the app.
Also remember to remove all the protective films from the vacuum and auto-empty station. I forgot to peel the bottommost film from the auto-empty stations first and was wondering later, why wouldn't the bot dock properly. 🙂
After these steps are done, the app will guide the rest! When switching to the software side, first thing to do is to connect the vacuum to WiFi (note: the device needs wifi to work, obviously). Connection is made by pressing the two buttons on the vacuum at the same time for few seconds and entering WiFi credentials using the app (again, guided totally by the app).
Once connected the device want's to know its name and room location. Setting these do not affect the functionality of the robot, it's just a common thing in smart home scene that every device has it's unique name and room.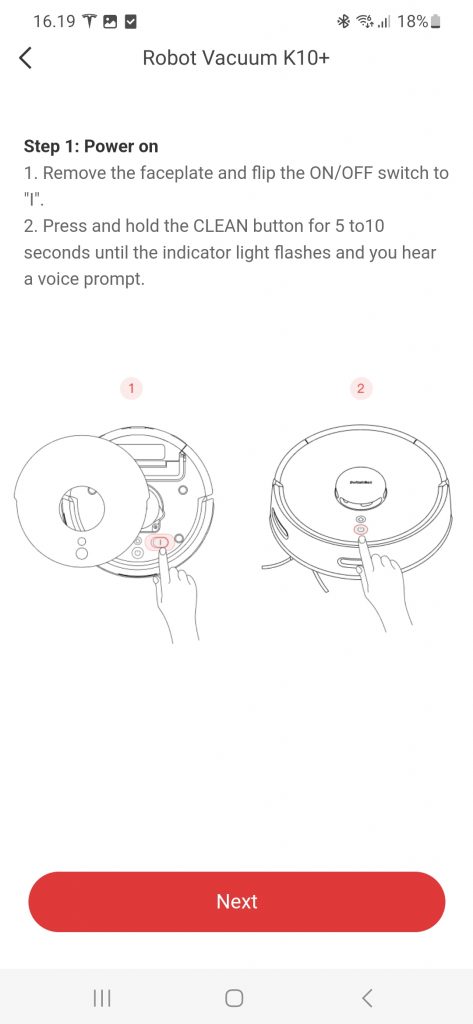 Initial mapping run
The software setup is now done and the bot kindly asks you to do the initial mapping run. Time to clean excess clutter from floors and open all the doors so the robot will have access to every location intended (..again, guided totally by the app).
Initial mapping run will run your whole house and run full clean afterwards. During the initial mapping I did encounter few issues: First I forgot to remove the protective film from the base so the vacuum was not able to dock properly after mapping. This was my mistake. Second the first mapping run did not map my laundry room properly and it got skewed. I have a small about 1.5 cm tall doorstep between laundry room and the living room, from which the vacuum passed. I think it did try map the room at the same time while passing it and most probably the device did shake a bit while going above it and the result was a failure.
I was not happy with the initial mapping so I decided to make it again! This time I used the 'quick map' functionality that does not clean, but only maps the room. It took only about 10 minutes for my house and the map was ready and looked very sharp.
The mapping functionality will try to identify all the rooms and separate them from each other. In my case it only was able to figure out couple of rooms properly and rest were divided from wrong places. This is easy to fix through the app. It only takes couple of minutes of your time: merge the rooms from the app and divide again using corresponding positions.
So conclusion about the mapping that it can take few runs to make it correct, but once it's done, you 'never' have to do it again.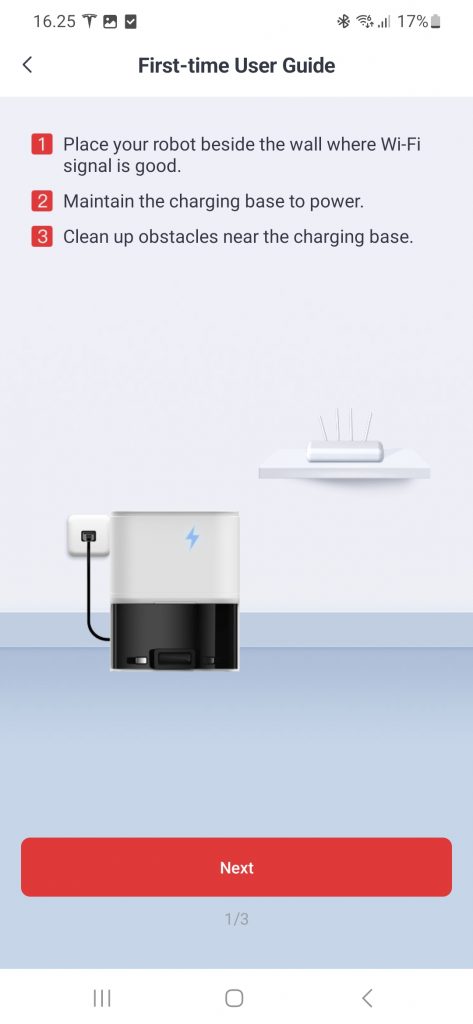 Vacuum performance
In paper, SwitchBot K10+ has 2500pa of suction power. Kind of typical for the low- to mid-range robot vacuums and the best way to test the performance is the infamous flour test: pour lots of flour in a specified area and see how the vacuum can handle it.
In the test run I set the robot to clean dirty area three times in a row and all the results can be seen in the images below. K10+ did not manage to vacuum all the fine grained flour in these three runs and left the area still a bit dirty. It managed to remove about 90% of the flour. Flour easily moves around and get 'stuck' between tile gaps so it's a challenging task for even the best robot vacuums out in the market. (note: Roborock S5 was not able to perform this task either).
On regular daily maintenance cleaning the 2500pa suction power is enough and it did clean all bread crumbs, sand and dust without any issues. This robot gets your house nice and clean every day, but in extreme situations, you need to use other means available.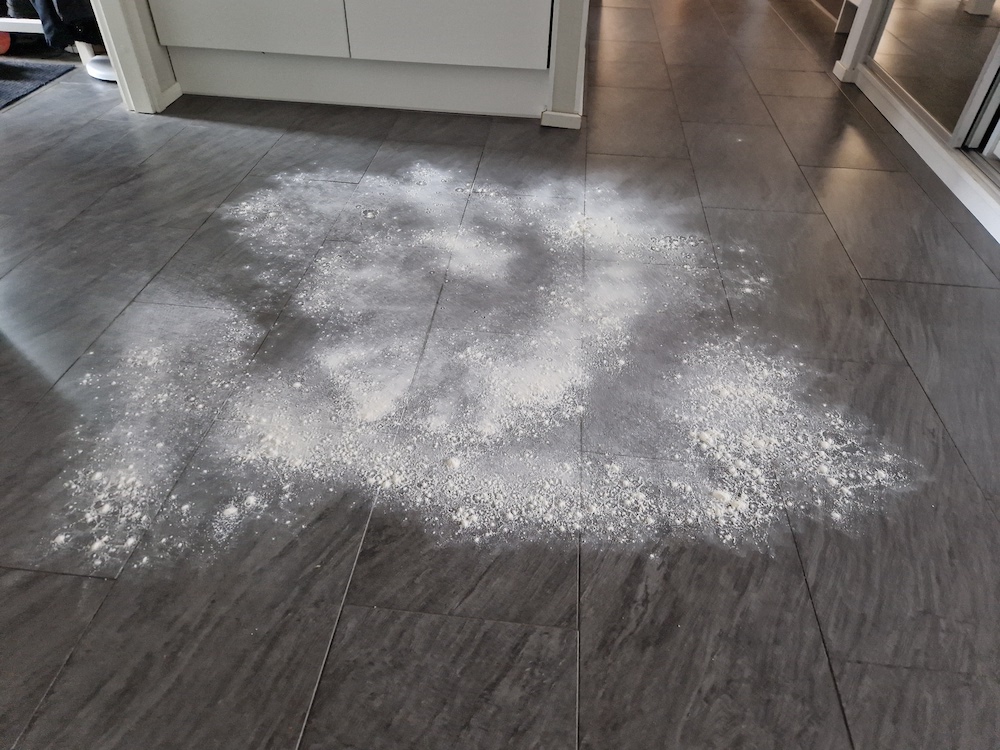 The size of the robot
The robot is small and quite fast. It can get in places where the bigger vacuums can't and that's a big plus. However, a smaller device means smaller battery and tinier dust bin. But let's dig into the speed a little bit.. The robot managed to clean my 46m2 living room in 43 minutes while the bigger and older Roborock S5 handled it in 34 minutes. So only 9 minutes more from much smaller robot and the overall result of cleanliness is about the same.
Vacuuming the same 46m2 living room drained battery for 35% when set to strong suction power level that is the second strongest one. Not bad, considering how small the battery itself is.
Because the robot is so tiny, it has some issues passing high doorsteps. I tested a doorstep height of 1.5 mm and width of 3 mm. It does get over it barely after trying a while, but I think it's about maximum it can do. So having tall doorsteps can cause problems and the robot will need some external help get over.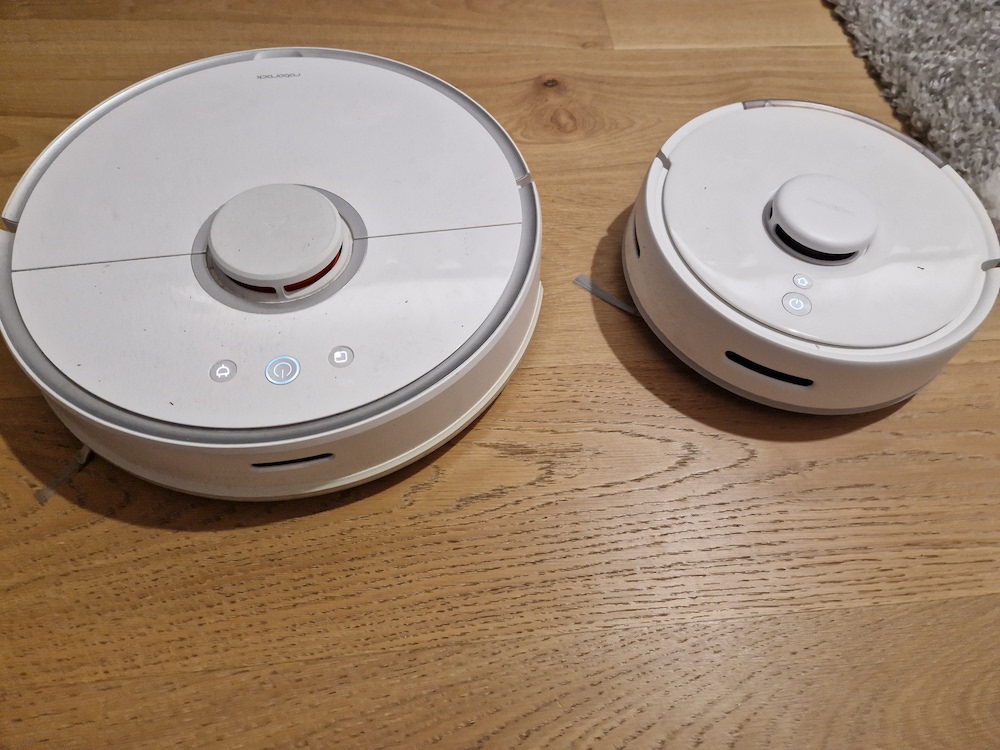 Auto-empty station
Since the capacity of internal dust bin is so tiny, it's essential for this device to have an auto-empty dock. Auto-empty dock can handle four litres of dirt before requiring a dust bag replacement. Four litres is a good size for a dust bag and there's no need to worry it getting full frequently.
Auto-empty station itself is a size of 26 cm x 19.5 cm x 32.5 cm and can easily fit in various places. It's recommended to place it in front of a wall to make the vacuum enter the dock properly.
I was positively pleased to notice that the auto-empty station does charge the bot rapidly. 35% of battery charging took about 35 minute . Therefore it's not a catastrophe if the robot needs to charge in a middle of cleaning cycle.
What surprised me even more was the performance of the auto-empty station. It does really suck (pun intended) all the dust in and zero dust is left behind in the vacuum. But with great power comes with a great sound, it's very loud while doing the emptying. No worries though, you can also pre-set no disruption times to the vacuum so it won't make any cleaning or emptying at those pre-scheuldes times.
Mopping capability
I'd say mopping is not a reason for purchasing SwitchBot K10+, but providing a possibility to do some is a nice little extra. The mop is just disposable wet cloth that is being placed under the bot. The bot won't be able to lift the mop on carpets and will drag the wet mop everywhere. However, you can set no-mop zones from the app and the vacuum won't enter those locations when the mopping cleaning is selected.
There's pros and cons for disposable mops: you don't have to worry about cleaning and drying the mops, but also it's not very environmental friendly to use disposable wet cloths. Within the package there are 30 cloths provided and more can be ordered from the SwitchBot web store.
The mopping did the job as it should, but nothing too fancy in there. It did drag the wet cloth around and did wipe the floor properly as promised (see image after cleaning 26m2 tiled area). When mopping an larger area, wet cloth should be changed at some point since it tends to dry quite rapidly.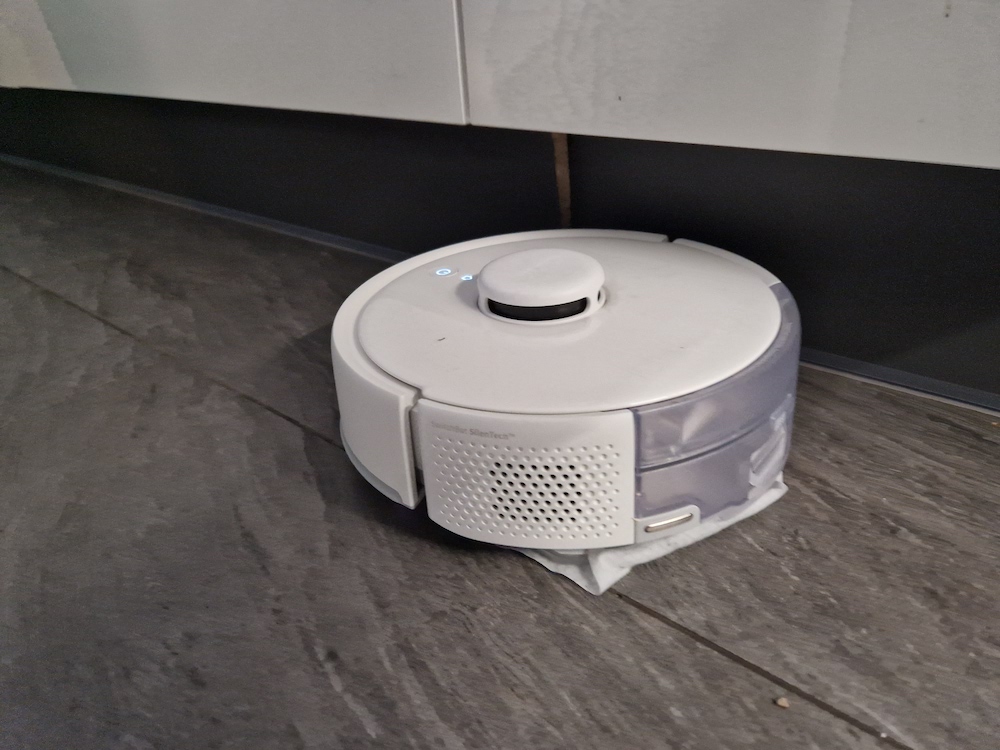 The SwitchBot App and K10+
The app itself supports extremely well every day usage. You can set schedules, zones, have different profiles of cleaning, quiet times, no-go zones, room cleaning and area cleaning just to mention some.
The bot is also integrated to the SwitchBot ecosystem, so you can set automations to e.g. start cleaning when you leave the house. However, I couldn't find a support to clean selected rooms only using automations? It's possible on schedules, but not on automated triggers? At least I couldn't find it, but hopefully such functionality will become later on updates.
K10+ does also support most common voice assistants like Siri, Google Assistant and Amazon Alexa. Currently it has no external API to be used by 3rd party systems, but SwitchBot is currently developing Matter support for robot vacuums that should be released next year for both K10+ and the upcoming S10. So that's a great news for Home Assistant users also 🙂
Verdict
As said in the introduction, this bot is targeted for a smaller apartments and is in the below the mid-range side of the price. A good thing is that it does include auto-empty station, which is a huge relieve so you don't need to worry about emptying the internal dust bin.
The robot does handle daily maintenance cleaning extremely well, but lacks a bit of suction power on extreme situations.
Mopping functionality with disposable cloths is also a plus, but I wouldn't consider this model if the mopping is a priority. If you need daily mopping, you need to pick another manufacturer and prepare to pay few hundred euros more to get it all.
Taking all the tested things into account, it's good product on it's price range 499€. It will get you a decent vacuum with well working auto-empty station.
Pros
Tiny size helps to clean narrow spaces
Auto-empty station is excellent
Software is well designed and supports different cleaning profiles and schedules
The vacuum itself is very quiet
Cons
Lack of suction power
Trouble climbing tall doorsteps
Would I recommend this product? Yes, if you want some help in daily cleaning and have a smaller apartment without too tall doorsteps. The product is really a great aid in daily upkeep.
If you need mopping, greater suction power or have a huge apartment, either look for something else or wait some months for the SwitchBot S10 to be released.
Smart home score: 4/5
---
Promotional message:
Need a SwitchBot device? You can get 10% off with the creatingsmarthome.com code 10UPF4RLGELVDV directly from the SwitchBot store.