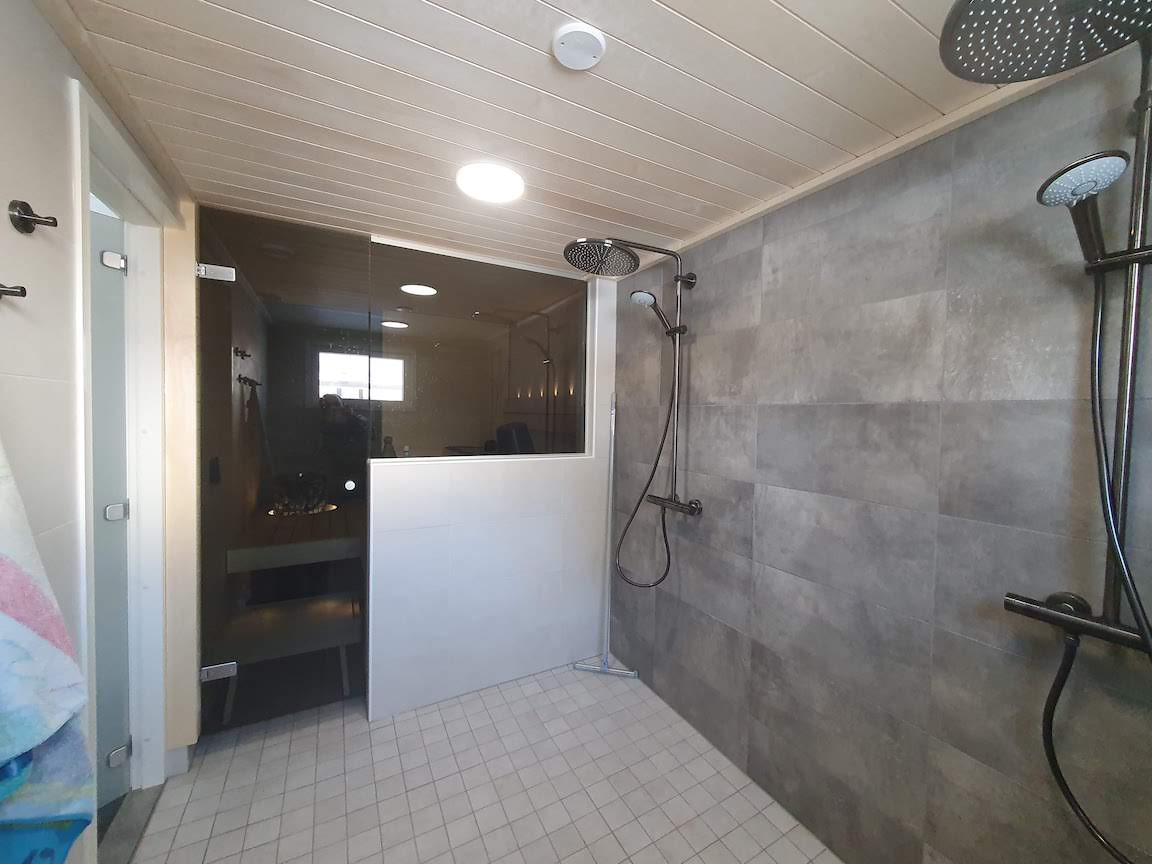 Room tour: Bathroom and Sauna (Updated 5/22)
Few weeks ago we just finished with the bathroom & sauna renovation project so what a great time to start the room tour series! When creating something new, the smart features should be considered in the way, so here are the results.
Lighting
Lighting of the bathroom is done with two Paulmann ZigBee compatible IP44 panel with tuneable white level along with 0-100% dimming.
Controlling the bathroom lights are done through Philips Hue Bridge using a battery free Friends of Hue Gira Senic Double switch. So it means that lights are hard wired and controlled only through Hue Bridge! This is actually the first time I've fully removed the old legacy light switch.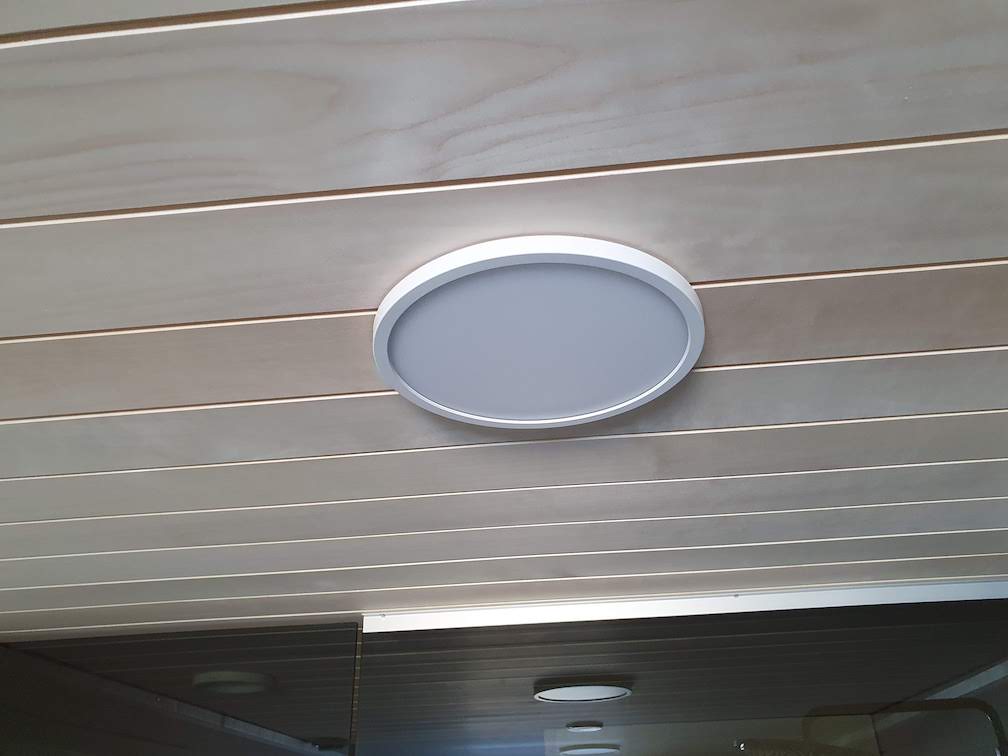 Heating
Before renovation we had one electric floor heating combining both laundry room and the bathroom. Four years ago when we did the laundry room renovation, I already installed new cables in laundry room and now it was time to do same for bathroom as well. So after this project, I now have separate cables in each room and can control the climate more accurately per room and therefore also (hopefully) save some energy!
For the heating I decided to continue with HeatIt V3 series that I've used around my whole house. With HeatIt thermostats I can control floor thermostats with 0.5 decimal precision and also see the power consumption of the heating.
Sensors
Two Xiaomi Aqara temperature/humidity/pressure sensors are in place in both bathroom and sauna. In that way I can easily measure the humidity level and control ventilation depending on the humidity.
Temperature is also good to know, so I can get information when the sauna is ready to go (warm enough).
I had these sensors installed before the renovation and they could also take the heat in the sauna.
Along with the Aqara temperature sensor I've now added Aqara motion sensor as well. It does turn the lights on automatically when entering the room and turns them off after two minutes of inactivity.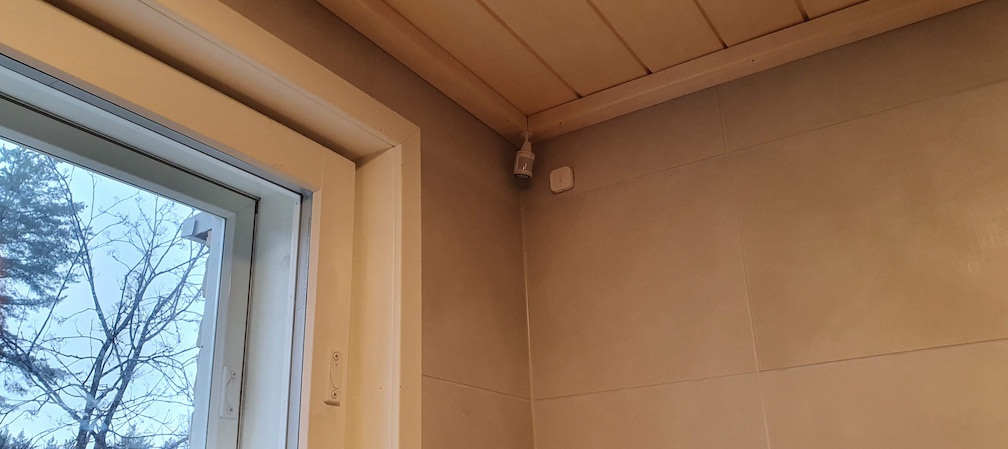 Sauna
In the sauna there's Black Harvia Cilindro PC70 sauna heater with Harvia Xenio WiFi control panel. Panel is controllable with My Harvia app, but unfortunately it doesn't have open interface and cannot be integrated on the Home Assistant at the moment.
To fix the Sauna heater issue, I decided to add Harvia Shelly remote start/stop system along with the existing WiFi control panel. It's a normal Shelly 1S device with a custom firmware in it. Not packed up with the features I can see in the WiFi panel but does the thing! Now I can see Sauna status and start heating from the Home Assistant as well. There are some safety features built in the heater, but I'll get back on those when writing full review of the heater.
Also I decided to add possibility to listen some music while in Sauna so there's two Harvia 80W speakers under the sauna bench. Those speakers are passive speakers and controlled by Sonos AMP that is located inside the server rack in another room.
Lighting in sauna is done with non-smart optical fibre lighting up and down the bench line and led strip around the heater itself. Those lights are then made smart with AduroSmart ERIA on/off relay that is encapsulated within IP55 casing below the sauna benches. Control is done with same Gira Senic switch that is used for the bathroom. The good thing with AduroSmart ERIA Relay is that it's 100% Hue compatible. I'm trying to keep my lightning system connected 100% to Hue bridge.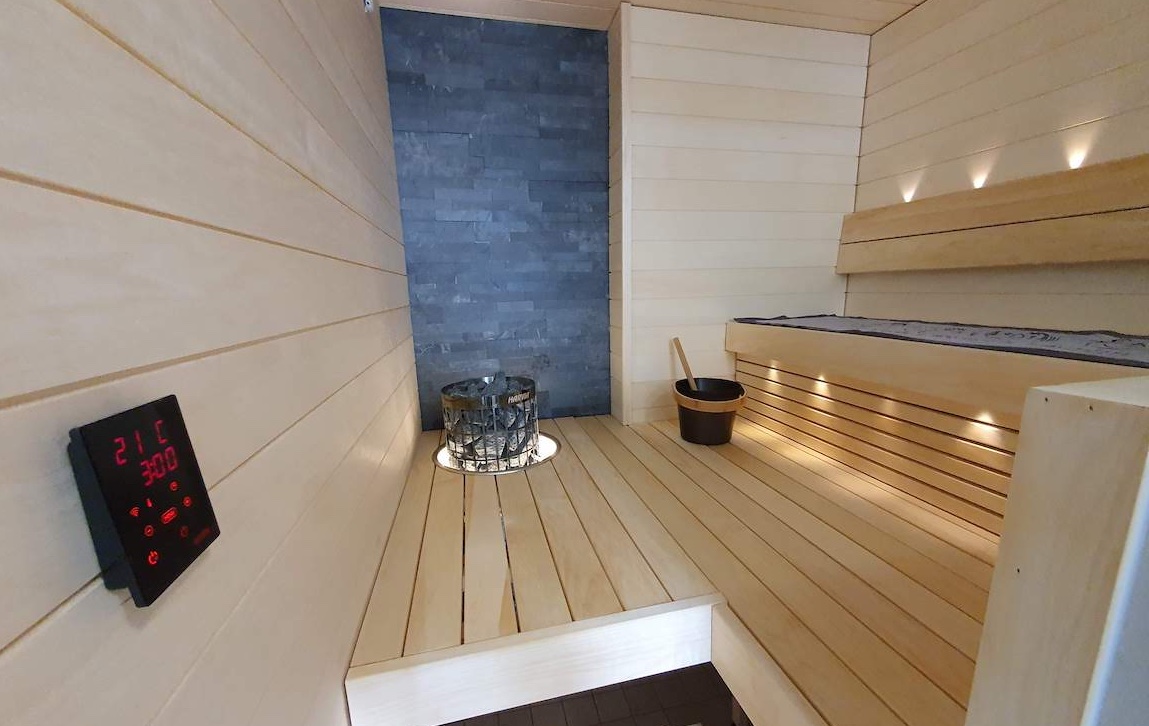 Voice Control
I finally managed to add a voice control inside the sauna (and bathroom) using Google Nest Mini. It's installed above the ceiling in a dry place and fortunately it can hear all the voice commands sound and clear from both sauna and the bathroom! Also responses can be heard clearly from both places. Of course it's not meant for music listening since I already got the Sonos in the Sauna.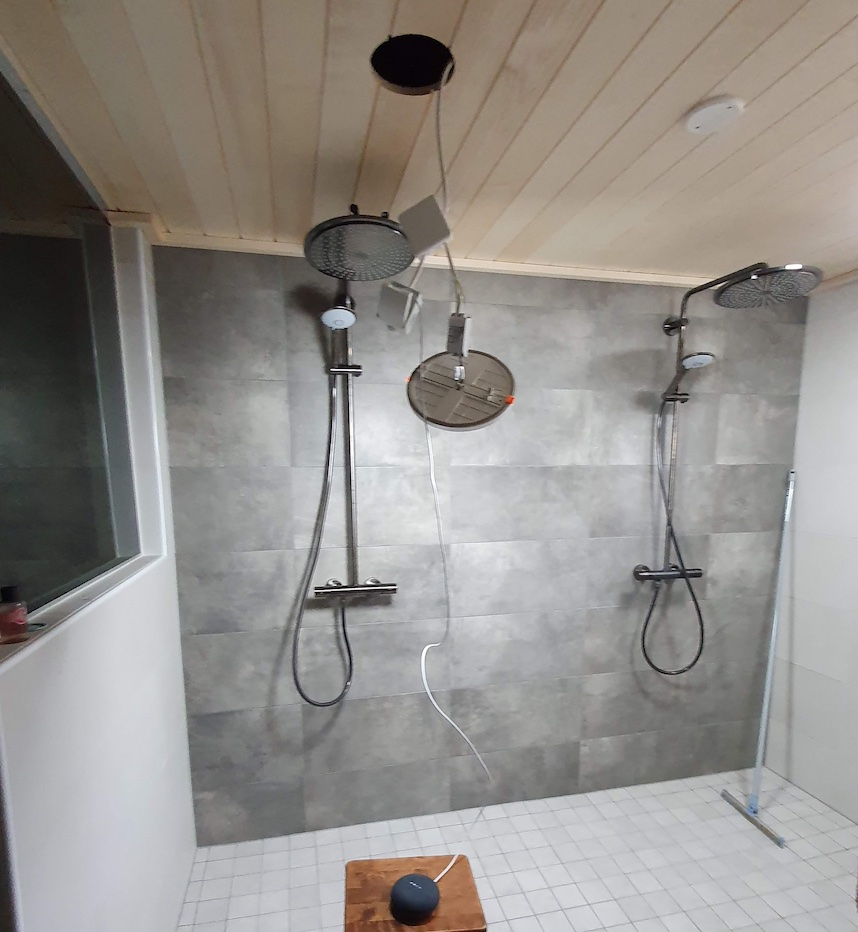 Automations
So far only few automations inside the bathroom and in sauna.
When relative humidity in bathroom goes above certain level a boost of ventilation will be set in place for one hour. Exception is that, is sauna is still on the automation won't trigger. I don't want more ventilation to take away all the heat when still in sauna
Google Assistant informs by voice when sauna is warm!
Loud speakers in sauna will inform if doorbell is rang if sauna is warm. That way I can hear if someone is at the door 🙂
Lights in bathroom are motion controlled
What next…
I've already have few improvements I could do to this section of the house
Automation to inform kids, if they've been "long enough" in the shower as I don't like to waste warm water.. Teenagers you know..